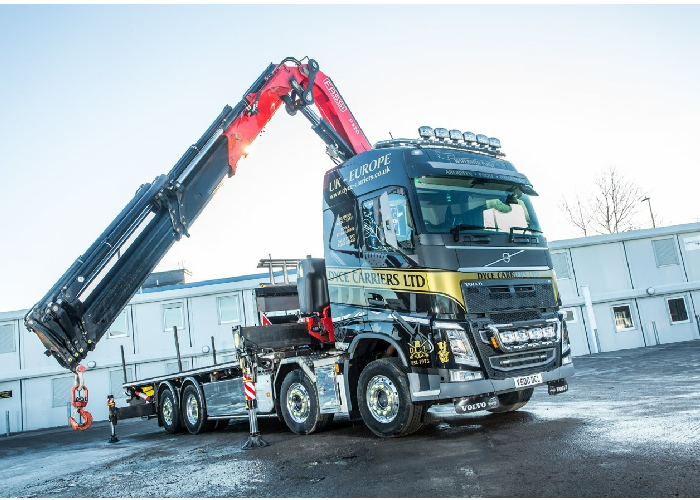 HIAB or Hydrauliska Industri is the brand name of a company that manufactures the given type of hydraulic crane. HIAB is a common name in the haulage industry. It refers to lorry mounted crane, truck-mounted crane, mounted crane, lorry loader body, or crane lorry.
The vehicle is a combination of a truck and crane, and it primarily helps to load and unload trucks. It uses the vehicle engine to power the hydraulics of the crane and then it is used as lifting equipment. HIAB truck hire can be done to transport goods to the site and also load and unload them. This reduces the need for two vehicles like a separate mobile crane.
Types Of HIAB

There are two types of HIAB loader cranes, and they are defined below:
The rigid HIAB can be described as a vehicle which consists of a truck, trailer, and lorry fixed in a single structure. It is popularly known as the crane lorry.
One can also get an articulated HIAB which is a vehicle which is a truck, and it comes with a lorry-mounted crane situated behind. It can be used as a move-around unit or for pulling trailers.
Prices
HIAB trucks are quite expensive to hire, but the exact cost of a HIAB truck hire depends on several factors, like:
The exact type of vehicle you want.
The flexibility and range required to get a job done.
The cost of the HIAB would include skilled and experienced crane operatives, along with the equipment. They will plan and track the entire execution properly and also give you recommendations on the type of vehicle that would do your job the best.
What Can The HIAB Lift?
The HIAB can lift a wide range of heavy objects. It is important to hire advanced vehicles and experienced operators to do the job safely and efficiently. Things that can be lifted using a HIAB would include containers of all sizes, generators, compressors, various industrial machinery, cranes and different parts of cranes, boats, mobile homes, etc. HIAB can also be used for the movement of site accommodation as well.
The HIAB cranes come with a single crane arm, and that helps to perform all the lifting business quite easily. They might be much more expensive than a simple truck, but the cost is lesser than arranging a truck and crane separately. The vehicle is equipped with a single delivery arm and it helps to deliver containers on both sides of the truck.
It is essential to choose the right HIAB truck and vehicle according to your needs. Talk to experienced and professional crane services that operate in your area. Before negotiating the cost, ensure that they have experience with the work, and have all the proper documents, like insurance and license, to drive the HIAB.